Medical assistants are expected to protect themselves and their patients through hand washing. This skill lab teaches you how to perform a medically aseptic handwashing.
This lab is based on the entry-level competencies for which the Commission on Accreditation of Allied Health Education Programs (CAAHEP) and Accrediting Bureau of Health Education Schools (ABHES) test the Medical Assistant.
Learning Sequence Builds Confidence
The learner practices the procedure in the 'guided mode' (interaction hints and an expanded checklist guide) as often as they like. 
When the learner is confident that they can accurately demonstrate the procedure without error, the learner plays the level in the 'expert mode' (no hints or checklist explanations) - which they can repeat as often as they wish. 
Finally, when the learner is confident that they have mastered the procedure - they take a one-time 'exam' attempt which results in their grade for that procedure.
The Medical Assisting Clinical Suite (Professional) Edition is available for purchase through the Oculus AppLab for $149.99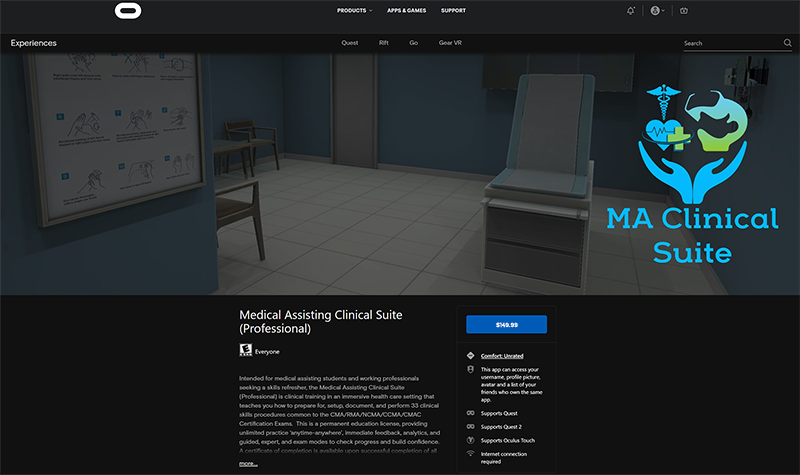 Features

Guided Mode - ghosted hints show step-by-step positions, learner can 'see through' the patient to verify placement.
Oculus Quest Affordability & Ease of Use - next generation game development processes allow the untethered, mobile VR to present effective visual and interaction fidelity at 1/4 of the cost of desktop VR.
Feedback - Cloud-based enterprise incorporates real-time data acquisition that allows learner to track progress and mastery, and provides detailed insights for debrief with faculty.
Support - Enterprise incorporates Knowledge Base (with tutorial videos & FAQ) - combined with help desk support staff for learners and staff.
Hand Washing Checklist
Ensure clothing does not touch countertop throughout handwashing

Expose wrists.

Remove wrist jewelry.

Turn on the cold (only) water faucet.

Wet hands completely with water.

Depress the level on the soap dispenser to apply enough soap to cover all hand surfaces.

Rub hands palm to palm.

Rub the right palm over left left dorsum with interlaced fingers and vice versa.

Rub palm to palm with fingers interlaced.

Rub the backs of fingers to opposing palms with fingers interlaced.

Rub with rotational rubbing of left thumb clasped in right palm and vice versa.

Rub with rotational rubbing, backwards and forwards with clasped fingers of right hand in left palm and vice versa.

Cup fingers together and work lather on all surfaces of fingers, around nailbed, and underneath fingernails

Thoroughly rinse hands under flowing water until all soap lather is removed.

Pat dry hands with disposable towel.

Properly dispose of towel in waste receptacle.