Intended for Higher Ed Faculty & Staff, Professional Ed Faculty & Staff, this course examines the Immersive Learning Experience (ILX) as a new pedagogical approach, analyzes the benefits of ILX and the determinants of those benefits, and explores processes, tools, and techniques used to develop skills in constructing new approaches to make learning deeply engaging, inclusive, and successful.
The course uses an array of experiences and activities to illustrate the pedagogy and processes used to design, develop, deploy, and support immersive learning and also provides additional resources, references, and connects the learner in a learning community regarding immersive learning for education and training. The course activities explore how ILX provides a new perspective on learning design, supported by time-honored pedagogical theories and research, to allow learners to acquire skills more rapidly, with greater accuracy, and retain learned skills longer.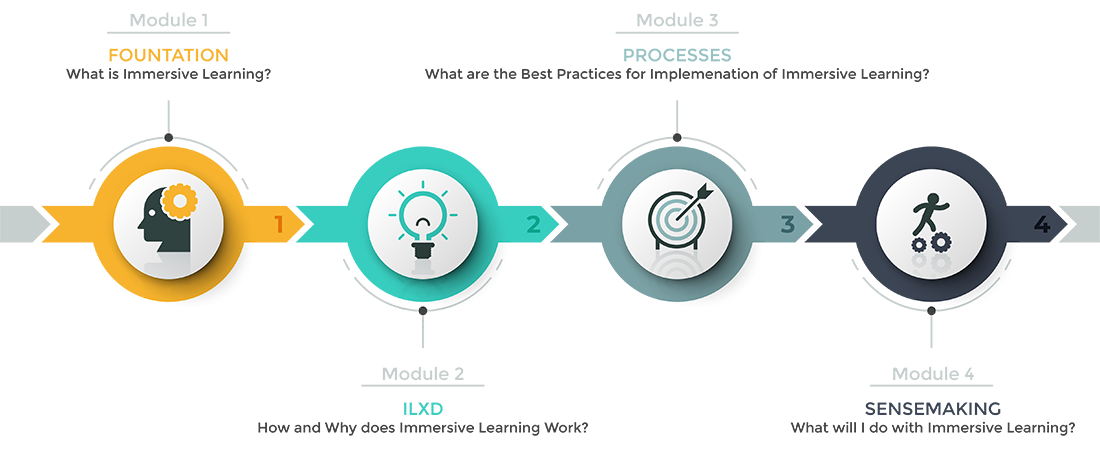 The Foundation, ILXD, and Processes Modules include activities that are organized in the following contexts: Consider, Experience, Create, Collaborate, and Discuss. The Sensemaking Module includes activities where the learner collaborates with the class in constructing their own ILX product for their use. Surveys are assigned at the completion of each Module, and the anonymous survey results are available to the class. These surveys provide the class with collaboration insight. Optional synchronous meetings/activities (Web meetings and VR) occur on Wednesdays and Fridays - they are recorded and posted for those unable to attend.
Required Text: ILX Fundamentals eBook, by inciteVR (included in the course)
Lincensing Included: for the following immersive learning experience applications.
NP Skills Labs

Active Shooter Survival
Immersive Collaboration Platform: Mozilla Hubs and Readyplayer.me
Certification

Learners that successfully complete the course earn a certification of completion from the ilxAcademy.